By Jesse Turner (Secondary Coach) and Lee Gibson (Head Coach)
Leeds High School (AL)
Twitter: @LeedsCoachT and @LeedsCoachG
As the dual threat athlete has become more and more a part of our game, so has the sprint game which helps utilize the dual threat weapon that is a running quarterback. In years past, the sprint pass has been used by offenses to cut down half the field, simplify throws, and get your quarterback out of the pocket. However, now it is used to maximize the threat that is the athletic quarterback. Defenses now not only have to defend the passing game, but also contain the quarterback and the threat he presents carrying the football. Our general philosophy regarding not only sprint passes, but passes in general, is controlling where the offense is able to throw the ball and who they are able to throw it to while maintaining containment on the quarterback. We believe forcing the offense to throw it to the place or player they do not want to, we will have success. Throughout this post, we will look particularly at the sprint pass and how to maximize and differentiate the different looks we give while keeping it very simple for our players.
Game Planning and Approach
As a staff, the first step we take in attempting to successfully defend the sprint pass is understanding what routes they like the most. We understand, as a smaller high school with two-way players, that we must be simple in what we teach, and we must put an emphasis on stopping what they the offense does best and most frequently. Week to week, we have a detailed understanding of what sprint concept(s) our opponent is running, who they are trying to get the ball to, and when they look to execute their sprint game. Based off this understanding, we try to use our coverages to dictate where and to whom the ball goes to (taking away what they do best). Today, we will look at the way we approached some of the most popular sprint pass concepts we saw this year and how we approached stopping these concepts.
Trap Corner ("Clip" Corner)
Our bread and butter approach to covering one back, 2x2 formations is to play a 3-4 and match coverage where our secondary is reading the #2 receiver and we are matching coverage based off his release. Our guys understand that the #2 receiver can do one of three things -- he can go out, in, or vertical.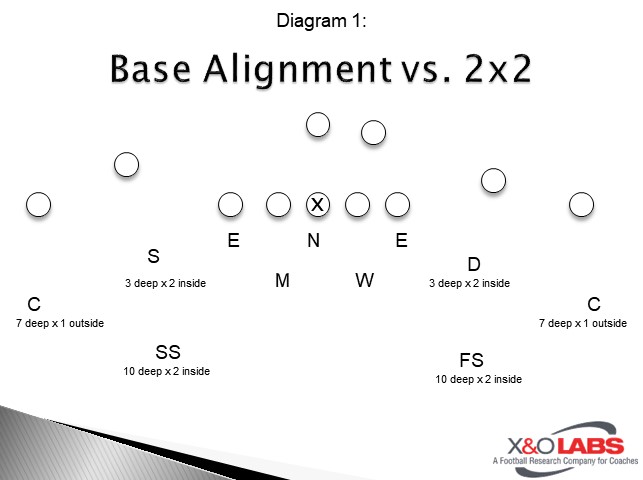 However, we also will play a version of Cover 3 that we call "Clip" to combat the sprint pass. This provides us a different look and takes the thinking out of it for our guys. We had a lot of success with "Clip" in combating sprint passes that tried to attack us with a quick and easy completion to the flat. Specifically, we used this coverage to stop a team that loved to throw the curl flat combo off their sprint game.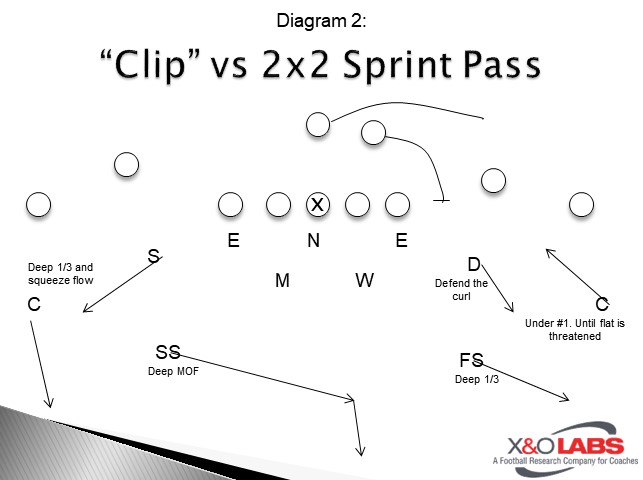 "Clip" is a simple, late rotation, trap corner Cover 3 but works, as stated above, to provide a simple and diverse look that also takes away the thinking for our guys. The assignments in "Clip" are as follows: