By Alex Place
Defensive Coordinator
Dublin Scioto (OH)
Twitter: @dmsmrplace
Introduction: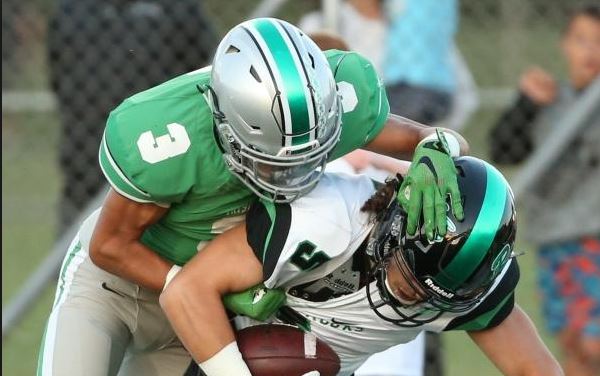 This past offseason, we transitioned from a 4-2-5 to a 4-3 in order to be multiple with our coverages and blitzes while disguising the coverages to the offense by lining up the same every snap. The previous year, we struggled as a team to have an identity. We seemed to be designing our defense each week to match what offenses were trying to do to us instead of having an identity that our kids knew and trusted. We see a bunch of 2x2 and 3x1 formations each week, so we decided to convert from a 1 high safety Cover 3 team to a 2 high safety Cover 4 / Pattern Match Cover 2 team.
Converting our defense to a 2 high safety team allows us to have an identity at all times. We no longer have to rotate our coverages to match up to what the offense gives us. Our kids know where to line up on every play and this defense allows to kids to react and fly to the ball. I will go through the alignment and assignments of the defensive backs and linebackers for each formation we see on a regular basis with the focus being on our "Cloud" pattern match coverage.
Alignment:
Anytime we have two detached receivers to one side of the formation, our corners and safeties lineup the same no matter what coverage we are in (Sky or Cloud). Our corners base alignment is 1x6 outside leverage of the #1 receiver. We turn our corners inside at a 45-degree angle. They will slow tempo out with a shuffle as they read their primary key, which is the quarterback. Our safeties alignment is 2x10 inside of the #2 receiver. Our safeties will slow backpedal, as they read their primary key, which is the quarterback (Diagram #1). Our outside linebackers are told to split the ball and #2. Their job is to be a curl player in the pass game unless otherwise noted in the report.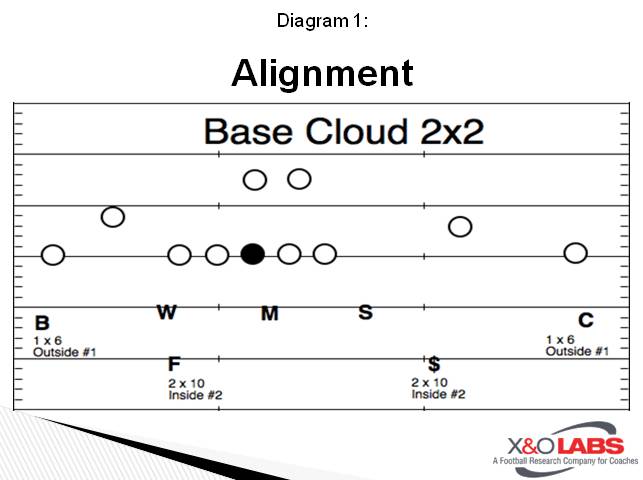 Quick Game:
Both the safeties and corners primary key is the QB. We read the QB to clear the run game and the quick passing game before progressing to matching routes. When they get a quick game read (bubble, quick throw), our defensive backs know to react and play aggressively (Diagram #2). Our coaching point on quick game is "if the ball goes we go," meaning we will jump a quick throw. Otherwise, "if the ball doesn't go, we don't go," meaning we will continue to sink with the deeper route. Once we have cleared the quick game, we get into our pattern read progression. Switching our "Cloud" coverage to a pattern read, virtually eliminates the Bubble and Quick throws by having our Corners as outside leverage players and our Sam and Will as inside leverage players. This is something that we teach during our individual time in practice. It is also great training for the defensive backs' eyes to quickly read the QB.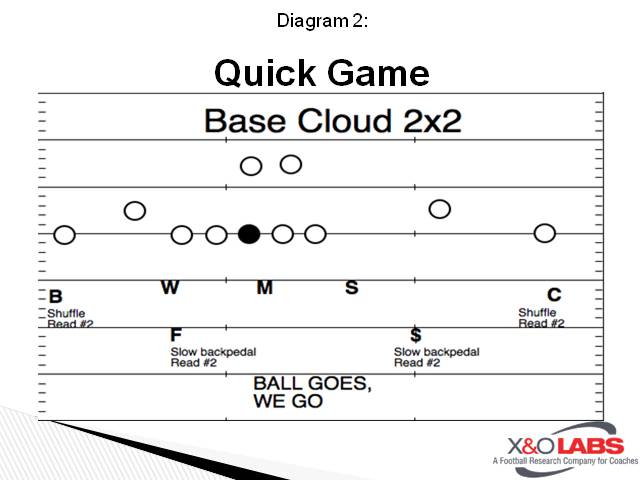 Pattern Reading
The first day we install "Cloud," we need to demonstrate to our defensive backs the progression of the QB, to #2, #1. Once we clear the run game and quick throw, we start our progression reading #2 to #1. Once the QB shows pass, we need to find the #2 WR.