By David Mastroianni
Defensive Coordinator/Secondary Coach
Hand High School (CT)
Twitter: @DMastro79
Introduction
In the age of man coverage and cover 4, the concept of spot dropping has gone by the wayside in favor of pattern reading. While pattern reading has its merits; we have found that it has slowed our players' ability to react quickly and break on thrown balls, thus defeating the purpose of playing zone coverage. We have experimented with coaching cover 4 more than once but, have found that it just doesn't suit our skill or our defensive philosophy. Our head coach summed up our pass coverage philosophy best by saying, "We need to be willing to trade a catch for a headache." Meaning, we are willing to give up a completion and then deliver a blow that will deter the receiver from wanting to catch a ball later in the game. By coaching eyes, body placement, and drop zones, we aim to create a player who is clear on his assignment thus allowing us to play multiple coverages without having to teach new concepts and allow for quicker reactions to the thrown ball.
Identifying Zones of the Field
The first step in being a spot drop team is identifying zones of the field. We are a cover 3 or a quarter quarter half team so we teach the hook/curl, curl/flat, deep thirds concept to start. Linebackers and secondary alike are responsible for knowing each zone on the field (Diagram #1). The benefit to this is that when we teach various coverages it allows our players to quickly grasp their piece of the puzzle in the grand scheme of the coverage itself. This allows installs of cover 3 and most of our ¼ ¼ half coverages to be done in a two day install period.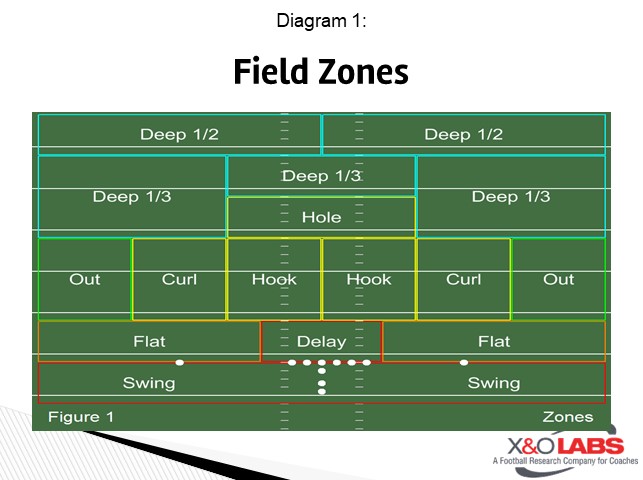 Establishing Awareness
The next phase of teaching spot drops is by establishing "threat awareness" as well as a basic understanding of pass route depths. Before the start of each snap (both in practice and in games) we ask all second and third level defenders to identify their nearest "threat," or WR that can get into their zone the fastest, pre-snap. By getting their minds ready to address a potential quick threat, we believe we can encourage a sense of focused urgency in our pass drops. The other piece of establishing awareness in our players is by reminding them the 3 most common levels (in yards) of pass route depths (5, 15, 25). This will come into play later when we discuss our actual pass drops.
Intersecting Routes
Language in coaching is everything. If you tell a player to "collision" a receiver, he will go out of his way, usually at the expense of an effective drop, to hit that receiver. A few years back we decided that we were going to change the verbiage to "intersecting" the route. The way we explained it was that we did not want to go out of our way to collision a WR because it could be sacrificing the integrity of our coverage. Instead, we wanted to intersect a WR on the way to our drop zone. This change in wording accomplished two things for us:
It helped control the tempo of our drops. Instead of our LB's buzzing to their zone too quickly or too slowly, they have learned to drop at the speed of the WR. If the WR released quickly (i.e. any type of vertical routes), then our LB would drop to his zone quicker in order to disrupt four verticals. If the WR released more slowly (i.e. Out/Drag/ Hitch) then our LB's would drop to their zones in a more deliberate fashion, all the while looking to "intersect" the route and disrupt timing.

It helped our second level defenders get hands on WR without having to pattern read. This helped to keep our defenders eyes on the QB as much as possible while still affecting the timing of the pass game.
Zone Depth & Responsibility