By Brandon Staley - @CoachStaley_JMU
Defensive Coordinator
James Madison University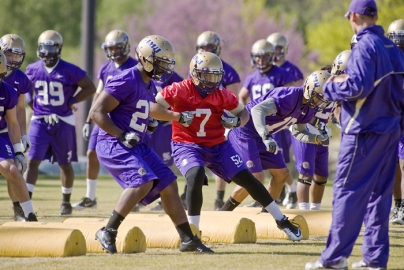 Editor's Note: Brandon Staley is in his first year as the defensive coordinator and linebackers coach for the James Madison football program. Staley spent the last season as the defensive coordinator at John Carroll University, where he helped lead the Blue Streaks to a 9-2 overall record, 8-1 in Ohio Athletic Conference (OAC) play and a berth in the Division III national playoffs for the first time since 2002. His defense averaged giving up just 9.1 points and 228.4 yards per game, while forcing 27 turnovers, earning him OAC Co-Assistant Coach of the Year. Senior cornerback Randy Greenwood was named a Second Team All-America selection, while five defensive players earned All-OAC honors. His defense ranked third nationally in third-down defense, second in red-zone defense, third in pass efficiency defense and 16th in defensive yards per rush.
Introduction
Quick clinic question: What is the tragic flaw of Cover Three defense? You guessed it, four verticals. But what if we told you that you could still play your cover three coverage concepts but negate those verts by matching up to those horizontal-stretching routes? The answer may lie in what Brandon Staley, the defensive coordinator at James Madison University, calls "Match" coverage. It's a coverage that Staley used nearly 70 percent of the time on first downs last year while at John Carroll College, and the results were outstanding. The Blue Streaks finished second in the country in total defense, posting four shutouts.
Editor's Note: Since all of these coverages are three deep, four under by nature we will describe each coverage based on the responsibilities of those coverage defenders. The symbols in the diagrams are the following:
S= Star (Nickel Corner)
$= Money (Linebacker to the Trips or Strong side)
M= Mack (Linebacker to the weak side)
DS= Drop Safety (Staley plays with left and right Safeties)
FS= Deep Safety
Out of a nickel 4-3 look (Diagram 1), Staley's flat players will be a drop Safety and the Star, which is a Nickel Corner. In Staley's system, both Safeties are interchangeable- he plays with a right and left Safety. Either one could be a box dropper. "That is why we teach three-deep conceptually because your flat players can be different people depending on the personnel grouping and the rotation of the safeties," he told us. Staley teaches three base coverages on first down, all of which are predicated off offensive structure:
"Match" to slot and 2x2 formations

"Skate" to Pro, 3x1 and bunch formations

"Flood" to empty formations.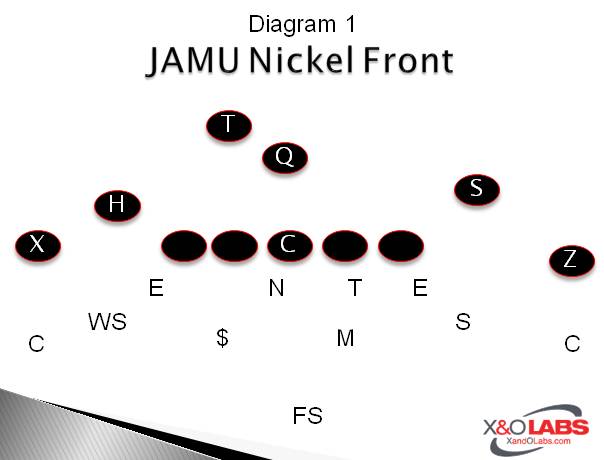 Staley details each coverage below, but the efficiency in teaching lies in the player's ability to recognize formation structure and make the right check. "All they have to do is identify the formation and that's how you know what you will play," Staley told us. "We tell the players that this coverage plays like man when it has to and it plays like zone when it has to. We are going to take away the "intent" of the formation and the routes. When routes go vertical, then we are going to carry them and it will look like Cover 1. When routes are shallow or when formations are tight, then we are going to play zone off of the QB and see the ball thrown."
Illusion of Cover Three
According to Staley, the primary benefit of playing these coverages, as opposed to pure cover three, are bountiful. "It gives the illusion of Cover one but we have zone eyes on the QB. Our Corners do a lot of press bail technique so you get a lot of fades and you're on top of the route. You're able to play a lot of things top down. Receivers don't get a lot of yards after the catch and you have more overlap players. Cover defenders don't get drained out from playing man to man. Man to man is dicey with stacks and bunches. You still get the illusion of bump and run- to the boundary because it is bump and run."
Match Coverage Structure
Most offenses want to utilize the four vertical concept out of 2x2 sets, which is why Match is the adjustment against all 2x2 balanced offensive sets. "We know that most offenses want to go with four verticals out of 2 x 2 formations so "match" takes away that intent," Staley told us. "It allows the middle of the field safety to stay in the middle because the seams don't get stretched like when you spot drop as you would in Cover Three. Seam verticals have to be funneled to the middle of the field Safety. We don't want those seams working away from the middle of the field safety. We want to condense those seams. We want those seams coming to our safety. We want to funnel those seams with the flat players."