By Christopher Tomlinson
Tight Ends and Special Teams Coach
Franklin High School (TN)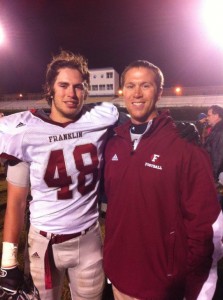 Editor's Note: Coach Tomlinson currently a varsity assistant coach at his alma mater Franklin High School (TN). He has coached at Franklin for the past 5 years, and I have worked with long snappers during that time as well as the 3 years prior. In addition, Coach Tomlinson has coached defensive line and tight ends.
First and foremost, I'd like to say that a long snapper should most definitely be "made" in the off season. Although it's a position typically over looked, it's still technically a skilled position and one that does take time and practice in order to be done effectively. Below I will discuss the very basics of long snapping from the warm-up all the way through timing with getting the kick off. During the spring and summer months, use these drills to help develop your snapper in order to have him ready during the season.
When I first learned how to long snap, my coach told me that "when you're a good long snapper, no one will ever know your name." Although that is a bit humbling to a teenager, it could not be truer. You never want to have your name listed in the paper as being the person that sent one over the head of the punter, or had an unmanageable snap to the holder. In an idealist world, when it's time for our coaches to look for a new long snapper, I typically look for the body type of a fullback / linebacker sort of player. Basically you want someone in the range of 6'0" – 6'3" and 190 – 220 pounds. One of the best that I have coached is 6'4" and our current long snapper is about 5'10", so size is not necessarily a requirement, just a preference. The reason however that I look for that size is that you want someone that is able to hold his ground (especially if you have them involved in your blocking scheme) as well as able to get down the field to cover on a punt after the ball is away. Three more desired characteristics that I look for are long arms, good hip mobility, and simply the ability to throw a decent spiral. With those basic characteristics, you should be able to coach them to long snap successfully.