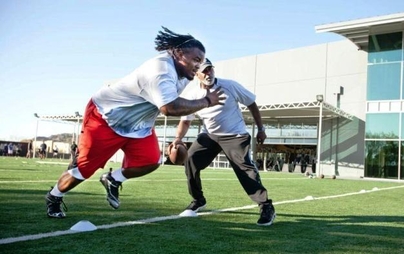 Coach Thurmond Moore has spent his career honing the ability and technique of top defensive lineman at all levels - prep, college and in the NFL. Moore has extensive experience on the defensive side of the ball, including coaching at a dozen collegiate football programs, several NFL teams and NFL Europe. Moore has made collegiate stops at Tulsa, Colorado State, North Texas, Syracuse and UCLA. In the NFL, he has worked with the St. Louis Rams, Oakland Raiders, San Francisco 49ers, Arizona Cardinals and served as the Buffalo Bills' defensive coordinator from 2001-03. He most recently was the defensive line coach of the New York Sentinels of the United Football League. He currently trains over two dozen NFL defensive linemen and has developed his own Tackling Academy, which could be found here: http://www.tacklingacademy.org
Editor's Note: X&O Labs has teamed up the SOTL Training and FootballUniversity.org to bring you a new drill interview series every week during this season. These are some of the most innovative drills being used today by some of the top coaches in the industry - drills that can be used in today's practice. We encourage you to watch more videos at SOTL Training.
MK: Coach, you spent an entire hour during your sessions going over drills are catered specifically to hand placement. Has that become a lost art in defensive line play or something that is continually under-coached?
TM: That is the biggest change in the game in the last 15 years. With the changing of the rules in which offensive lineman can use their hands, if you can't put your hands in the right spot as a defensive lineman or if you can't learn how to deflect his hands then you're not going to be a very good defensive player. As a defensive coach, you need to teach hand placement. You better get your hands inside and your elbows locked before his power step gets in the ground or now he has power. Big bodies are great, but it's all about hands now. Hardest thing I ever found when coaching at the highest levels is hand development. If players start doing this when they are 8,9 or 10 years old then they will have developed a pretty good skill.
MK: How do you teach it to younger player who haven't mastered that technique yet?