By Tunde Agboke
Defensive Line Coach
Marist College (FCS)
Editor's Note: CoachAgboke just completed his 3rd year as the defensive line coach and special teams coordinator at Marist College. During his time there, Marist has ranked as a top 10 defense at the FCS level. This past season, Marist finished as conference champions and recorded the most wins in school history. Agboke placed 5 defensive linemen on the All Conference team this year, which is quite an accomplishment considering their base is a three front. Tunde also coached 2013 Buck Buchanan Award Finalist &Pioneer Conference Player of Year. In addition to his work at Marist, Coach Agboke is a 2013 NCAA/NFL Coaches Academy invitee. His coaching career also includes time at Shippensburg University as Defensive Line Coach (2010-2011) and William Paterson University as Linebackers Coach (2009).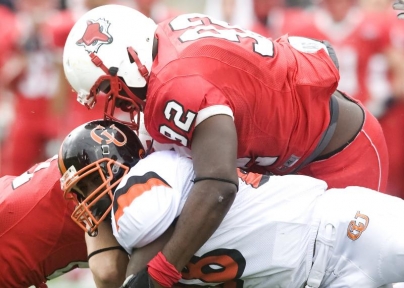 Obviously there are many things that make a great defensive lineman. That said, there are three skills we emphasize when looking at recruits and developing the players on our current roster. Those skills are:
The ability to move laterally / change directions.

The instinct and willingness to fight pressure

The ability to recover when things go wrong
These things are so crucial to the success of our defensive line that we drill these concepts on a daily basis. Here is a further breakdown of each of our essential skills and a look at the drills that we use to maximize each of our player's ability in that area.
Directive 1: Lateral Movement
The first is having great lateral movement. We strongly believe in taking the fight to the offense. If you sit back and let them dictate it could be a long game. To do this we mix in a good amount of "miss direction," to steal an offensive term. Changing who is coming from what gap and when helps give us the advantage. We do this in our base calls as well as our pressure game.
For that to be effective, our players have to have great lateral movement. They must be able to slant, come to balance, and then redirect to make a play on the ball. This is critical because we are constantly stunting and slanting our front. Although we are a 3-man front, our defensive linemen are not big space eaters. We recruit and train athletes for the positions, including the nose tackle. If the player can't move laterally, then they will not be successful in our scheme.
Directive 2: Fighting Pressure
Secondly, they must be able to fight pressure and not get washed or displaced from their gap. We are a three-man front and a gap responsible defense. If a player can't fight pressure and hold his gap it has the possibility of creating a snowball effect. He gets displaced, which puts more strain on his teammates, which in turn leads to us giving up a big play. Our players must be able to hold their ground and secure their gap- which is actually more mental than physical. All of their pre-snap and post snap reads should allow them to ascertain whether or not there is potential for a down block. Once they know a block is coming, it should be easier to defeat it.
For example, we see a good amount of Lead and Power run to the Tight End side. Our Defensive Ends (DE)have to take on the initial block from the Offensive Tackle (OT) and then fight the pressure being applied on him by the Tight End(TE). If he is ineffective in fighting the pressure, he will get washed and a pulling Offensive Guard (OG) will climb to the next level, leading to a downhill run for the running back (RB)and a huge gain. On the other hand if he goes to the pressure right now without ever putting his hands on the OT, he is leaving the Linebacker (LB) on the tracks with a 6'4 330lb train coming. However if the DE plays it correctly, he is able to get his hands on the OT, then fight the pressure from the TE and then finally spill & pry the pulling OG. Doing all of this creates a bubble in the backfield that leads to a Tackle for Loss (TFL). Even if he isn't the one who makes the TFL, the LB who he helped keep clean will be there to finish things up.