By Steve Hopkins
Head Coach
Basehor Linwood High School (KS)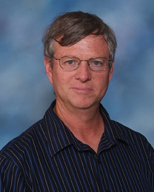 Editors Note: Steve Hopkins is completing his 36th year of teaching and coaching; the first 22 years as an assistant – at 3 different high schools in Missouri (Warrensburg - 3A - where he coached WR's and DB's; Harrisonville - 3A - where he coached the Offensive Line; and his longest stint as an assistant was at 5A Blue Springs High school (largest high school in Missouri at that time) as the offensive line coach from 1983-1998, winning a state championship in 1992. In 1999 he became a head coach for the first time at Odessa, Mo. (class 3 school), and coached from 1999-2003 and then moved to Basehor-Linwood High school in Kansas (class 4A), where he has been since the fall of 2004. His overall record as a head coach is 92 wins and 52 losses, and as a head coach he has been a part of 6 league and 8 district championships. He and his wife Ann have been married for 35 years and have 4 children aged 18-32.All throughout my time at Blue Springs High School in Missouri as the offensive line coach, and at Odessa High School in Missouri then Basehor-Linwood High school in Kansas where I have served as the head coach, we have relied on the Stretch/Outside zone to give us a simple but effective run game. We recognize the need to have a consistent running game that allows various players to touch the ball, while keeping the blocking scheme simple for the Offensive Linemen, and for us the "stretch" or outside zone has been the basis of our run game for nearly two decades. In our view, the stretch can look like multiple plays to the defense from the "jet/rocket" sweep to a power off tackle play, and yet, for the front line, one set of techniques and basic rules allow us to block nearly any front and "make 4 yards" each time we touch the ball. For us, the stretch can be all of the following plays:
A deep handoff from under center or with a quick near motion (wing T concept) in the gun.
A load option (usually in the gun)
A Rocket or Jet Sweep (both under center and in the gun)
A Toss Sweep (under center and in the gun)
A QB Sweep (disguised as sprint out pass - 3 steps with QB having ball in the cocked position)
To do this, we incorporate key "trigger" terms, such as "Reach, Rip, and Run," "Lift, Lean, and Leave," and "Pivot, Punch, and Plant," for our linemen, Tight Ends, and Fullbacks to create gaps in the defense, or to gain the edge for a big play. We, like all teams, emphasis strength development in our weights program, but we also want to incorporate weight room skills onto the football field. Our linemen have really bought into this and it shows in our weight room and on the field.
Offensive Line Mechanics
For us, the power clean is the basis of our weight program, which we feel fits into our blocking and tackling techniques better than any other weight room lift. We focus in particular on the width of the feet (armpit width) when the high pull begins, and the landing width slightly wider (outside of the shoulders), and then incorporate that teaching into our blocking stance and demeanor. Our landing position in the catch portion of the clean, is in a power position, with the knees flexed and the chest and eyes up. We want them to "feel" that bend in the knees and ankles on the catch, while their eyes are up and focused on a target. Then we want to take that muscle memory and repeat it on our steps and blocking technique in our stretch play. An example of this is in the picture below: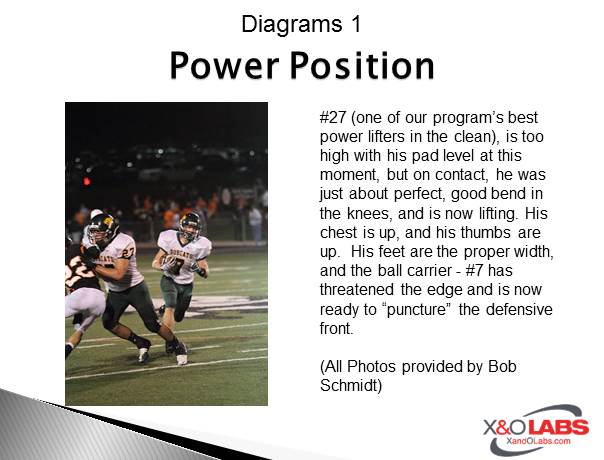 Reach, Rip and Run
Why we don't use Covered and Uncovered Principles:
Defenses stem and move – especially as we motion.
Defenses in high school alignment issues.
Does it really change our initial steps?
Hesitation or confusion is the enemy – we want full speed – attacking OL.
Reach Component
Before teaching the scheme we focus on splits, stance and the first two steps. We want all of our linemen to maintain our anchor splits of one and a half feet between the Center and Guards, two feet between Guards and Tackles and three feet between Tackles and Tight Ends. We will compress (shorten) the back side splits on certain occasions and against certain key players to prevent leaks, but we want the front side to remain with normal splits. We then begin teaching the scheme with the "3 R's" by using the phrase "Reach, Rip, and Run" for all offensive linemen and Tight Ends (we call them H's). We start by having all linemen in a narrow stance (we really focus on keeping feet no wider than our armpits), exactly where we want them to begin the lift in the power clean, so on day one on the field – we get the offensive linemen on a yard line, drop the outside foot back and assume the power clean position. This may be unconventional, but since we are backed off the ball slightly – leave our heels flat as if we are ready to high pull. We feel this allows our players to take a large first step laterally (12-18 inches depending on a player's height and agility), and quickly get our second foot on the ground, before contact, and be back in a balanced position, at that point with our feet in the wider stance as in the "catch" position in the power clean. At the same time, we want to reach with our play side hand to the hip of the "partner" toward the play. (All will do this, except the TE or end man on the L.O.S. who has no one to reach toward). We stress that players must get their hand in contact with the other linemen's hip quickly to build a wall. On the first few days of summer camp, we teach these splits, first two steps and then we have the players freeze in the power position, before we even use play names or numbers, etc. An example of the protoypical stance is below.