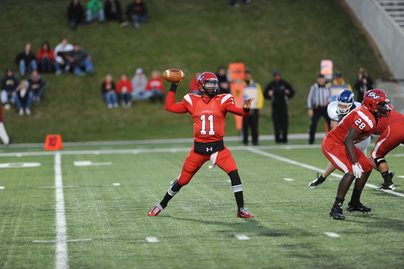 By Jim Collins
Head Football Coach
Saginaw Valley State (MI)
At Saginaw Valley State University, we are fortunate to have a program with a great tradition, outstanding support from our administration, and student athletes who embrace the chase for excellence on and off the field. We are also blessed to have a coaching staff that truly cares about helping every young man in our program develop to his fullest potential.
Through the years, Saginaw Valley has had some outstanding quarterbacks and thus relied heavily on the passing game. The last few years have been filled with record breaking team and individual performances related to the passing game. Having an offensive line that understands pass protection schemes and principles and a group of skill players who are committed to practicing the passing game has been something that we have relied on. That being said, our ability to keep things simple to understand and able to execute at a high level has been the cornerstone of our passing game philosophy.
PROTECTIONS:
First of all, we are a team with few protections and protection adjustments. Our offensive line basically has to understand one protection: man on one side, slide (zone/gap) to the other side. To the man side, we block the guard and tackle on the down defensive lineman to that side. If we see a true odd defense and the guard is uncovered, he becomes part of the slide (gap). To the slide side, each offensive lineman is responsible to the gap that is away from the man side. We can include 1 or 2 backs, or 1 or 2 tight ends into the protection, but the rules for the lineman stay consistent. When a back(s) or tight end is involved, that gives us a better chance of protecting against a blitz that would not get picked up by the o-line. If we do not have a back or tight end involved, our quarterback and receivers must sight adjust (go hot).
PHILOSOPHY OF PASSING GAME:
Our passing game philosophy is predicated on coverage beaters (man and zone), timing, and accuracy. Our first objective is to be able to have a pass play (concept) that can beat the multiple coverages that a defense can throw at an offense. We would rather not have to predict the coverage, nor do we want to have to check out of a play every time we see a coverage that we don't feel good about. What we would prefer, is to have a concept called that can beat virtually all defenses. Our reads versus the coverages are simple for the quarterback and follow an option principle. Generally against zone coverage, we ask the quarterback to key the movement of one defender in the secondary, just as an option quarterback would key the defensive end on whether or not to pitch the football, in order to determine where the ball is thrown.
Our second objective is for our offensive line, quarterback, and receivers to understand the timing of each play. Timing is how you beat the defense. Watching Bill Walsh on a video talking about "beating the defense to the punch" will forever ring in my ears. We have to get the ball to an open spot before the defense gets there. All of our routes are specific when it comes to route distances and quarterback footwork. If we feel as if our quarterback cannot get the ball to the receiver on time, we will adjust the distance of the route or the drop of the quarterback.