By Kevin Magourik
Former Offensive Coordinator
South Carolina State University
Editor's Note: Kevin Magouirk finished his fourth season as quarterbacks coach and second as Offensive Coordinator at South Carolina State. Magourik coached one of the proflic passers in SC State history in quarterback Malcolm Long who would go on to break 13 single season & career school records, while earning All-MEAC honors twice in his career, including being named 2010 Pre-season MEAC Player of the Year. The former wide receiver and running back at the University of South Carolina began his coaching career in 2001 as a wide receiver coach at McLean High School before making the transition to the collegiate ranks with stops at St. Anselm College (2002), Lehigh University (2003-04) and The Citadel.
At South Carolina State our primary emphasis is running the football. We have a long, rich tradition of great running backs that have come through here. Naturally our pass game is devised of more down the field throws as defenses start to load the box and get closer to the line of scrimmage. One of our favorite routes to throw is the Post. We try to find this route vs. all coverage's and when the timing is right, can be a huge momentum changer in our favor. There are a few ways we run and throw this route which is what I will share with you.
We will throw a variety of Post routes. Depending on the coverage we are facing we can manipulate defenders to spring our Post ball free. Depending on the type of Post ball, we will have to alter our Quarterbacks drop to match the protection and alter the Wide Receiver's type of Post to match up with the Quarterback. I feel like the timing of it all is one of the most important factors if not the most important factor that goes into throwing the Post. As we game planned each week we would try to find a Post ball out of each of our formations to attack the defense. Whether you are a traditional Pro-Style offense or a Spread style offense, you can always find the Post. Ultimately we throw about 5 types of Post routes with the 5th really being a variation of the 4th.
Five Types of Post Routes
Regular (Big) Post
7 Step Post
Glance Post
Inside Post vs. Zone
Inside Post vs. off Man
You can also run a double move Post which we have stayed away from over the last few years due to personnel issues. If you can protect the QB long enough and have a great route runner this obviously can be a great asset to you arsenal.
Regular (Big) Post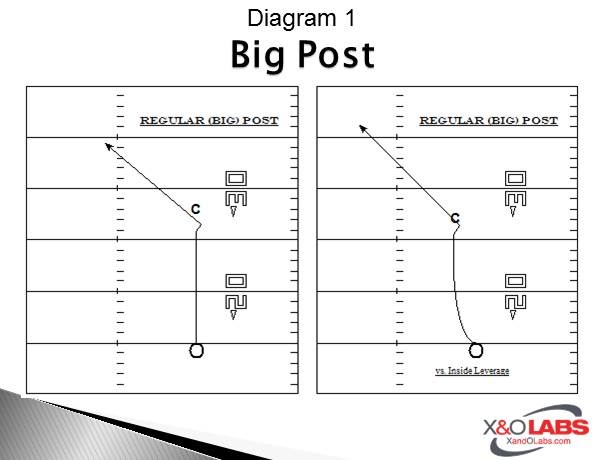 Coaching Points:
On the stem of our Regular Post we like to talk to our Receivers about pressing the CB's leverage.
We attack his outside shoulder trying to break his cushion.
As we break his cushion we give a quick jab move outside and break inside toward the middle of the field, calling it "Taking the middle of the field." We want him to make this break around 10-12 yards.
We will give the Receiver up to about 14 yards to make his break, usually depending on the action of the Quarterback.
We like to run this Post route anytime we see Quarters Coverage (Cover 4). We will hold the Safeties by either putting a route into his zone (i.e. Dig, Curl, etc.) underneath the Post or using a hard play-action to get him jumping into his run support responsibility. A lot of times we do both, use a hard play-action and put another Receiver into his zone. We will also run this against Cover 3 as well.
Using a 2 Receiver surface, we will run an Inside Post across the face of the high Safety to pull him away from the Outside Post.
The action in the backfield will determine the Quarterbacks drop & depth of the throw. When throwing this out of a straight drop back action we like to use a "Normal Drop". We don't want to put too much air on this throw and really want to try to hit the Receiver around the 30-35 yard mark. The Quarterback

has

to keep this ball out in front of the Receiver. Throwing this behind him can lead to bad things. We tell the Quarterback if you are going to miss the throw, miss it out in front. When throwing this off of a hard play-action in the backfield we will generally gather ourselves off the action with some depth. This will depend on the type of action shown in the backfield, whether he is in the Gun or under Center. Using this drop we will give our Quarterback a 35-45 yard mark. The harder the fake, the more yards he has to work with.
To see video of Coach Magourik's Big Post Concept, click on the link below: