Using the Quick Game to Win First Down
By Dan Ellis Head Coach W.C. East High School
Throwing the football is something we did this past season with enormous success. We threw it often and threw it well. However, it is not necessarily the number of attempts you try in a game, but it's the efficiency with which your QB executes the passing game that matters. When you choose to call passing plays, completing the ball is of the utmost importance. The first play we install in the passing game is our Hitch Concept. The reason behind that is simple – if teams allow us to throw the hitch, we will take advantage of it all day. We tell our QB's it's a steal if they allow us to throw it consistently.
The Hitch Concept carries both a horizontal and vertical stretch. It has multiple coverage beaters imbedded. In this report, I will explain the concept, QB footwork and progressions and the different ways we have to run the play.
Hitch Concept: With the Hitch Concept, our goal is to get the ball out of the QBs hand as quickly as possible and to win first down. Like any offensive coordinator, we want to get into 2nd down and short and keep the playbook wide open. Short passing game on first down is a great way to do it, especially if defenses are playing the run with a middle closed coverage (Cover 1 or 3). Here is the basic concept(diagram 1):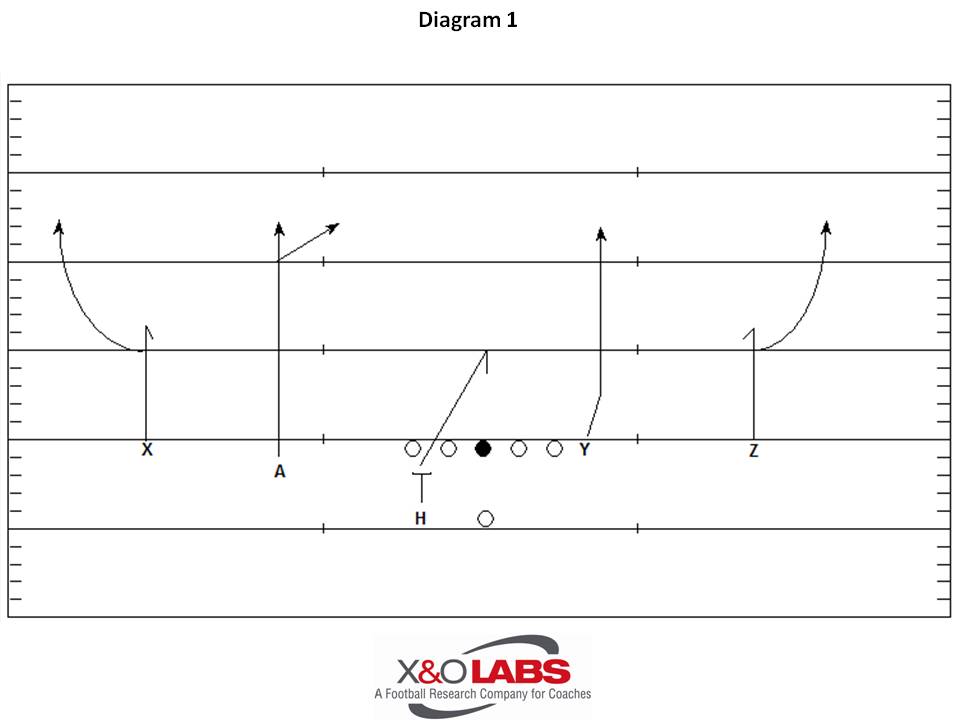 Rules:
QB – Middle of Field Open (MOFO) – 5-step. Middle of Field Closed (MOFC) – 3-step.
X – 5 step hitch (will convert against press/hard corner)
Z – 5 step hitch (will convert against press/hard corner)
A – Post to Get Open or Bender. If the MOFO (cover 0, 2, or 4), the A will run to the open space. If MOFC, the A will run a seam.
H – Ball route
Y – Seam
MOFC – Middle of Field Closed (Cover 1, 3) – Horizontal Stretch: Against MOFC coverages, we are looking at a scheme that will horizontally stretch the defense (diagram 2).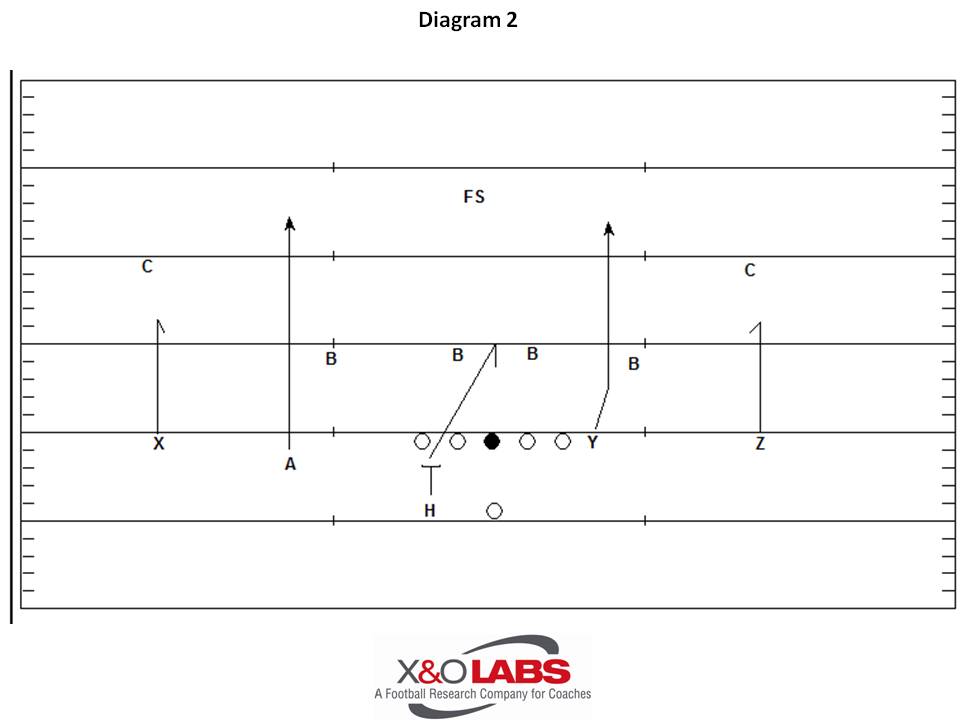 With the middle of the field closed, the X and Z will be most likely running hitches and the A and Y will be running seems as shown in diagram 2 against cover 3. We teach the QB to take the most advantageous side because we have mirrored routes. In this case against cover 3 with the MOFC, we know that we can get the hitch. So whichever side the QB feels easiest to get the hitch, to work that side of the field (based on alignment OLB, depth of CB, etc.).