By Rich O'Connor
Offensive Coordinator
Montclair State University
Editor's Note: X&O Labs Senior Research Manager Mike Kuchar spent some time this spring with Montclair State University's (NJ) offensive coordinator Rich O'Connor talking about his hot route system that he's been implementing for the last 10 seasons. Over that time, the Red Hawks have had tremendous success at the Division 3 level using this system. O'Connor shares his insight below.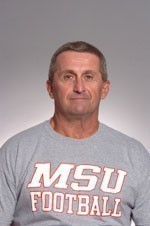 Coach O'Connor's Biography: Rich O'Connor is entering his 10th as Montclair State's Offensive Coordinator. He has served on the staff for 30 years. During his tenure, the Red Hawks have qualified for five postseason appearances, including three NCAA Playoffs berths in 2009 and 2010. In addition two of Montclair's quarterbacks have been named the NJAC Offensive Player of the Year. Prior to taking over as offensive coordinator, O'Connor served as offensive backfield and special teams coach where he guided many talented tailbacks in his career. And if one were to look at the MSU Top 10 Rushing list, many of the names there have been coached by O'Connor. Among those included are the top two names on the list - John Walker and Ron Lewis (the two combined for over 6,000 yards in their careers.)
Anytime coaches devise six-man protection schemes, he has to made a decision on whether to slide protect with the back or to dual read with him and throw "hot" in the case of six man pressure. Rich O'Connor, the offensive coach at Montclair State University (NJ) chooses the latter and he's been doing so for over ten years. His reasoning is simple- if the QB's in the shot gun formation (and not in the Pistol) defenses can key the back and set their pressure to him (Diagram 1). "Teams will key blitz the back," said O'Connor. "In that case, we will throw hot. It's part of running a pro style offense." According to O'Connor, it's been a staple of his offense and he devoted 7 out of 15 practices this past spring just working on this protection.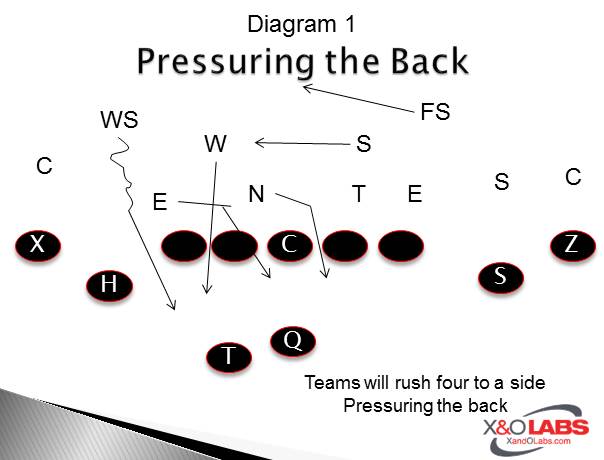 To be clear, this kind of protection is based off the five-step game and not the quick game. It's also important to note that this isn't the only protection that O'Connor uses. In fact in some cases, particularly in the quick game, O'Connor does choose to slide protect. But, this is clearly his protection of choice. "Anytime we see a five, six or seven man pressure team we work on throwing the ball hot," said O'Connor. According to O'Connor, each week during the season, he and his offensive staff will sift through scouting report information in an attempt to determine the following:
Defensive Scouting Questions:
What is the personality of the defense we're playing? Are they a blitz team? Are they a defend team? Are they a little bit of both? According to O'Connor, if a defense is over 35 percent on its pressures, then we will classify them as a blitz team regardless of down and distance. This doesn't include the red zone. "Many times blitz percentages go out the window in the red zone," said O'Connor. "We don't count from the 25 yard-line in to the end zone."

What is their personality by field position and by down and distance? How does that change?

We try to look to see if they are a hash blitz team? Do we get pressure from the field or boundary? Some zone blitz teams like to blitz from the field. Or, will they bring pressure from the boundary because defenders don't have to go as far.
Structuring "Hots" based on Protection
Once O'Connor has compiled that data, he handpicks where he wants his "hot" receiver that particular game week. The hot receiver will usually be the inside receiver, because he is closer to the QB. "If we see that 75 percent of the time, defenses are blitzing from the boundary, than that's where we put him (the hot)," said O'Connor. "The question we have to answer, if that's the case do I want to swing the protection to the field and block the pressure and throw hot to the boundary (Diagram 2) or do I slide the protection into the short side of the field and throw hot to wide side (Diagram 3)? We try to put the protection to field and throw hot to the boundary."