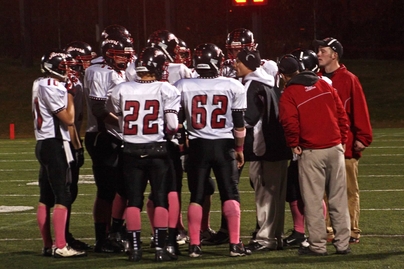 By Mike Rowe
Offensive Coordinator
Rocori High School (MN)
People often say that defense win championships. While that may be hard to argue, in the case of our State Championship in 2011, the game was actually won by special teams. Part of that equation for our team meant having a great 2 point play arsenal that we use after every score. By making a commitment to the 2 point play, we were able to use some creative formations and play concepts to add additional stress to the defense.
Here is a look at some of the key factors that led to us going with our 2 point play strategy.
Psychological advantage: We are a spread no huddle team and we love stressing the defense. By going for two especially early in the game we are adding stress to the defense and making the coaching staff start thinking what is our next move going to be?
Percentages: We have converted 50% of out two-point conversions in the last two seasons. That is basically making 100% of your extra points. We never did that even when we had an all-state kicker.
Momentum Changer: We have played in several games where our opponent has scored first in a game and been up 7 to 0. We would march down and make the score 8-7 and steal all of the momentum that they had just built up.
Practice Time: By running these different formations we know a team is going to spend valuable practicing and film time on how to stop us. That is valuable time they are taking away from their offense, defense and other special teams.
Spread the Field: The last thing we wanted to do is get our best athletes in space. By overloading one side of the field we are able to create mismatches for our team to succeed.
The Formation
During the 2010 season we played a lot of teams that would line up in the swinging gate, and when you lined up in your defense and didn't panic they would shift to their PAT team, and kick the extra point. During one of our offseason meetings we decided why not use the "Swinging Gate" all the time. All of our 2-point formations are named after aquatic animals and are yelled out as soon as we score. We want to line up and get them ready to snap the ball as soon as the official blows the ready for play whistle. Here are our various swinging gate formations that we have used over the past few years.