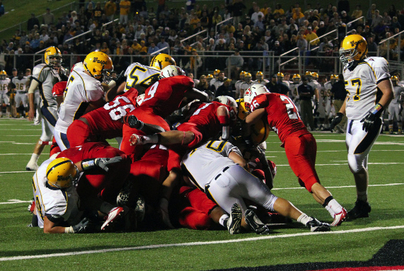 By Justin Hamilton
Defensive Coordinator/Secondary
University of Virginia at Wise (D-II)
Author's Bio: Justin Hamilton enters his second season as defensive coordinator and his third season overall at UVa-Wise in 2013. A year ago, the defense limited opponents to less than 25 points in five of the Cavaliers' 11 contests. The unit also collected 11 sacks and eight interceptions in 2012. In his first season, Hamilton's defense allowed just over 31 points per game, an improvement of nearly five points per game from the 2010 season. The defensive unit had its strongest day of the season on October 1 when UVa-Wise shut out host West Virginia Tech 13-0 to cap off a three game winning streak. Under Hamilton's tutelage, three Cavs have earned first-team all-conference honors. Previously, Hamilton worked with the football program as the school's strength and conditioning coordinator.
Introduction
As with most defensive staffs, at UVa-Wise, we want our defense to be sound, play fast, and attack at all times. When talking to our unit, we often use the term "Offensive Defense" and have named our defense the "Red Swarm" to describe the identity we are after. Our obvious goal is to defend opponents; however, we don't want our guys to think in "defensive" terms, we want them to think aggressively. As most coaches would attest, players are most sound and aggressive, and play the fastest when they are confident in the scheme and their individual assignments. By using the term "Offensive Defense", we stress to our players that the offense must stop what we do, not vice versa, thus creating ownership, belief, and confidence in our system. We also believe this method creates a desire from the players to earn significant roles which creates constant competition and pride in one's product.
We base from a 4-2-5 structure and will use a variety of D-Line stunts and games, or all out blitzes to attack offenses; however, our favorite (and most successful) means of attack has been through the use of Zone Blitzes (Fire Zones). Like most players, our guys love the idea of blitzing which creates an excitement-level that is critical for all of us to achieve the level of play we desire from our players. The beauty of a 5-man pressure package is that it can be implemented into any defensive scheme, the flexibility of the 5th rusher (or 4th and 5th for Odd front teams), the simplicity of the zone-match principles, and the ability to play zone coverage or Man-Free coverage without trying to make a living by "selling the farm" with zero-man coverage. For the purpose of this study, I will discuss our teaching philosophy and route match principles in our 3-Under/3-Deep Fire Zone Coverages.
Install/Structure
Although some of our younger players don't realize it, we actually begin teaching Fire Zone Coverage on Day 1 of install by teaching our Base Cover 3 Defense (4-Under/3-Deep). In our Base Cover 3 we classify the four underneath defenders as Seam/Flat and Sky/Hook defenders. In Fire Zones, we simply change Seam/Flat to Hot/Flat and Sky/Hook to Hot/Hook. Nearly every rule each player learns Day 1 carries over into our Fire Zone teaching, we simply add the word "Hot" to alert each player to expect hot throws as a response to the blitz. Because none of us want "robots", we teach the three underneath defenders to align at a minimum pre-snap depth of 6 yds or a maximum pre-snap depth of 8 yds. For us, the teaching must be flexible (i.e. a Safety coming down to play Hot/Flat may be at 8 yds, where a drop DE may only get to 6) however, we stress that no underneath defender should be less than 6 yds until the ball is thrown. The pre-snap alignment for each defender directly corresponds with their route match rules, which we have found simplifies the post-snap structure of the coverage. Hot/Flat defenders are taught to align inside #1, outside #2, and the Hot/Hook defenders are taught to align inside #3 (between #3 & QB). Though a WR may begin as #1 and end as #3, or a TE as #2 Strong and end as #2 Weak, etc., the principles and concepts remain the same in our teaching.