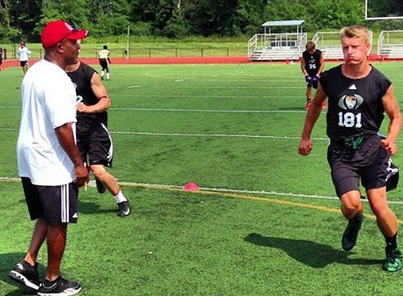 Editor's Note: Coach Charlie Collins continues to be one of the nation's top wide receiver gurus. He built his reputation working with top wideouts Chad Ochocinco and Steve Smith, both All Pro receivers. He personally trains T.J. Houshmandzadeh in the offseason. Many of the NFL's top receivers continue to seek out Coach Collins in the offseason to work with him in Southern California. Collins has also trained several top youth All-Americans from the LA area. He stresses fundamentals and the nuances of playing WR at the highest levels. He understands the necessary techniques to improve hand-eye coordination, footwork, release and separation, as well as how to teach a receiver to sink his hips coming in and out of breaks.
MK: What pre-snap triggers do you teach your receivers to identify once they get to the line of scrimmage? Nowadays with the pressure and blitz game, many defenses will bluff what they do. How do you get around it?
CC: I tell the receiver to first look at the following four things from the Corner: his leverage, his eyes, his distance and then his shell. We call this the triangle. If he's a deep third player, we look to see who the flat defender is and who the hook defender is. We want to know where his help is and what our adjustment may be based on that leverage or based on that look. Now we need to read the contour. He may look like a deep third defender, but roll pre-snap into a squat technique. If he comes up from being in an off-zone coverage, he's a cloud cover Corner, we already know he's not playing man. The first three steps I'll get all the information I need based on his reaction. We are looking at his eyes and gathering information. We are surveying what we have in front of us.
MK: When you see a tight head up alignment some coaches talk about using a foot-fire technique. What do you feel is the best release from the line of scrimmage when you see that technique?
CC: At the high school and college level it may be used. When you get to the pro game you see less and less of that. You may see it now in the red zone where you don't have enough real estate. The QB needs time to get the snap and deliver the ball. If you're on the plus five, if you go right now off the line you'll be in the back of the end zone running a fade and be out of room. You're basically trying to get the Corner to attack and open the gate so you can get by him. In the pro game, if you don't go anywhere in the foot fire, those Corners will squeeze you and you're stuck. Those Corners are too smart for that.
MK: Coach, you spent a lot of time preaching WR's gaining leverage based on a corners' technique. How does it differ depending on whether that CB is inside, outside or head up?