By Mike Kuchar with Brian Gabriel
Run Game Coordinator/Offensive Line Coach
Monmouth University (NJ)
Twitter: @CoachGabeMU
As a high school coach in New Jersey, I've been well versed in the success that Monmouth University has had running the football the last several years. Guided by perhaps the longest tenured coach at the FCS level in head coach (29 years) in Kevin Callahan, the Hawks continually are at or the near the top in several offensive categories. And the last couple seasons were no different. The Hawks tight zone concept- the top run scheme in its menu- averaged 7.8 yards per carry in 2019 and 7.6 yards per carry in 2020.
But how they've built their tight zone scheme is what makes it so efficient. Back in 2019, the offensive staff under the direction of coordinator Jeff Gallo made a conscience choice to separate the scheme into two separate concepts:
Front side exchange ("Atlanta") which is a wider exchange where the aiming point is the inside leg of the play side Guard. Here the read is defined for the running back with the intention of tracking second level defenders. It's a zone scheme until leverage (on the point) takes you back.
Backside exchange ("Arkansas") where the Center's leg is the target in a much tighter exchange. The ball carrier gets the ball in the backside A gap but must get to Center's play side foot as an aiming point until they get a clear read. It's a man scheme unless the point takes you to a zone scheme.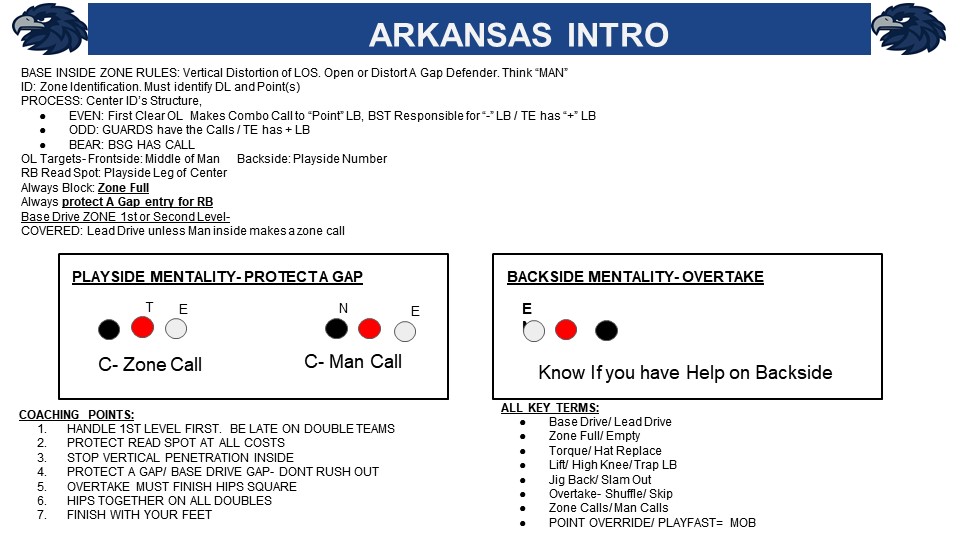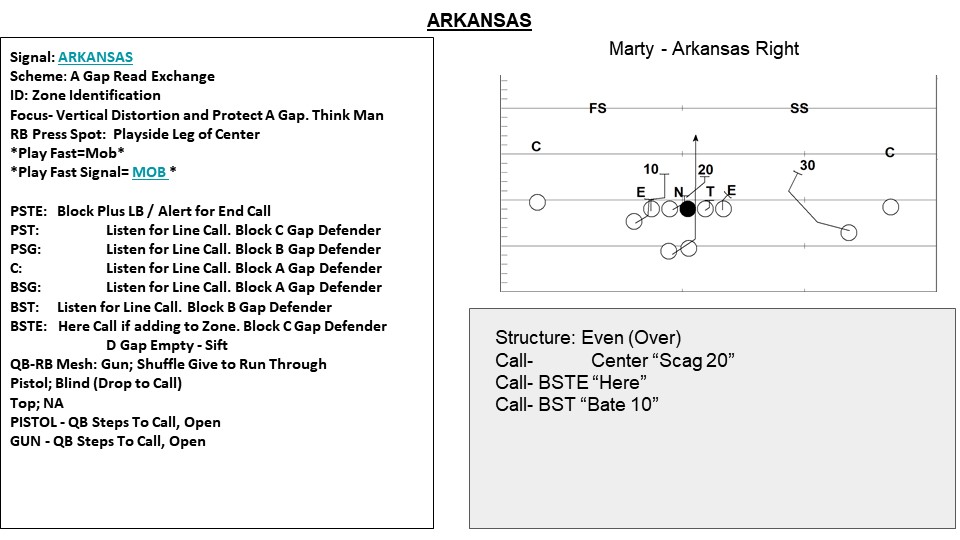 They've made a conscience chose to major in the latter and it's helped in displacing A gap defenders, which need to be handled in tight zone runs. I spoke at length with offensive line coach/run game coordinator Brian Gabriel about why he's decided to make the shift. He told me that now he doesn't ask his linemen to cover defenders up. Instead he defines the gaps for ball carriers. "We've gone away from the old school mentality of just covering people up and letting the back run," he said. "Instead it's become more of an iso mentality now because it's all about protecting the A gap and displacing that defender. We don't emphasize looking at LB's, those downs (lineman) will get you first. So, now we try to just open gaps."  He says it's helped in providing accountability in making the play efficient. "It becomes a missed assignment for the offensive line and not the back," he said. "We never want to say the back read it wrong. We have to define it for him."
This report focuses on the identification system Monmouth uses to block various fronts in the Arkansas concept and the specific techniques that Coach Gabriel uses to help define those gaps for the ball carrier in its tight zone concept.
Read More